Take the Driver Power survey and you could win £100
Tell us about your car in the Driver Power survey, you'll be entered into a prize draw where we give away three £100 Amazon vouchers every month.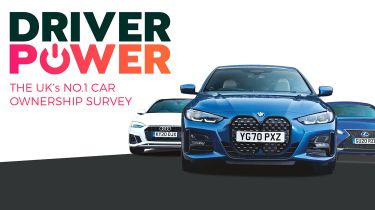 The Driver Power survey gives drivers the opportunity to share their thoughts on the cars they own and help fellow motorists choose their next car.
Driver Power touches on all areas of car ownership, including the driving experience, reliability and running costs, how well designed, practical and comfortable cars are on the inside, how slick and well developed infotainment and stereo systems are, and much more besides.
Driver Power covers the whole car market; new and used cars of all types as well as dealers, car insurance companies, electric car charging providers and breakdown cover companies. It's the complete guide to buying and owning a car powered by people who've been there and done it before you.
Driver Power is now even quicker and easier to take part in thanks to a streamlined survey interface. You're only asked the questions that apply to you and then you're automatically entered into that month's prize draw where you have the chance of winning one of three £100 Amazon vouchers.
Driver Power is the most respected and comprehensive car ownership survey in the country, and results in the go-to guides for car buyers we publish on Auto Express. As well as the information being hugely useful for motorists, car companies pay close attention to the Driver Power results, and genuinely listen to what you have to say. With Driver Power, you can help shape the future of the cars we drive and the industry as a whole.
Thank you for helping make Driver Power the invaluable resource for car buyers that it is.
Driver Power 2022 results
In the 2022 Driver Power survey, new car owners across the UK told us what they loved and hated about the cars they bought. The results give the best insight anywhere into what new car owners actually think of the cars they purchased and drive every day, helping fellow motorists choose their next vehicles and giving car makers a crucial heads-up on where they're going wrong.
We analysed the data and compiled the results to give the definitive verdict on which new cars are the UK's best to buy, own and run. We had a host of new entries in the Driver Power 2022 new car survey as well as some shock fallers and deserving climbers. How does your car fare? What wins overall? The top 75 new cars to own are all revealed in our Driver Power results – and it's all voted for by you.
You can also find the best cars to own by market sector and our run down of the top cars in each of the survey's sections. So if you want to know what owners think are the best new superminis or SUVs, or find out which models rank highest for comfort or technology, you've come to the right place. As a car buying tool, Driver Power is hard to beat.
For the full results of the 2022 Driver Power new car survey, just click here and follow the links below to the other Driver Power results pages…
To take the survey click here...