What is Nissan's e-POWER?
How Nissan's cutting-edge e-POWER tech works and the benefits it brings to drivers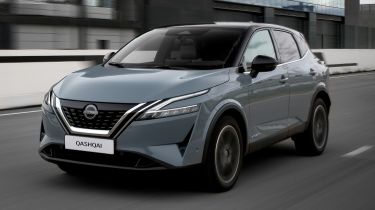 Advertisement feature from

When the upgraded Nissan Note was introduced in Japan in 2017, it quickly became one of the country's most popular cars, topping the sales chart the following year[1]. At the small hatchback's core was e-POWER, an innovative new powertrain that combined electric vehicle technology with the convenience of a petrol engine.
Fast forward to today and the all-new Nissan Qashqai, launched in the UK and Europe in 2021, will soon be offered with a new version e-POWER upgraded to meet the demands of European customers. With Nissan aiming to sell one million electrified vehicles a year by 2022, the e-POWER system is integral to the manufacturer's EV plans.
How does Nissan e-POWER work?
Using EV technology perfected in the all-electric Nissan LEAF, e-POWER comprises a high-performance lithium-ion battery, a petrol engine and power generator, an inverter, and an electric motor.
The internal combustion engine serves as a generator to charge the battery, which in turn drives the electric motor to provide power to the wheels via the inverter. It also benefits from regenerative braking, which captures energy lost when slowing down to be stored in the battery for later use. So, what you're essentially getting with e-POWER is an electric motor that's driven by the energy supplied from a traditional engine.
This differs from conventional hybrid powertrains, where the wheels can be driven by an electric motor, a petrol engine, or a combination of the two. With e-POWER, the petrol engine isn't connected to the wheels at all, instead, it only charges the battery.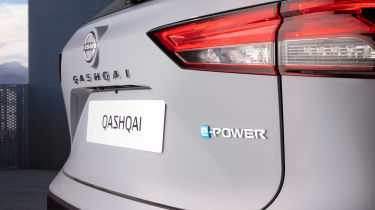 An important part of this setup is the new 'Linear Tune' system, which increases the engine speed to match the energy demands of the motor. This ensures there's no imbalance between engine speed and road speed, giving occupants a more connected feeling.
The e-POWER technology has also undergone rigorous development to reduce weight and optimise energy management. This means that the drivetrain can be integrated with compact crossovers like the Qashqai without compromising driving experience.
The driving benefits
Get behind the wheel of an e-POWER vehicle and you'll find a myriad of perks. The electrified powertrain means there's an immediate hit of torque - great for around-town driving - plus smooth acceleration and quieter running. There's also no gearbox to worry about.
The petrol engine's integrated tech keeps it running at optimum speed and, as it's used solely to charge the battery, you'll enjoy greater fuel efficiency and reduced emissions.[2]
Further reducing emissions is a variable compression ratio. Using a clever multi-link system, the VC-Turbo engine continuously varies the top dead centre and bottom dead centre positions of the pistons depending on the driver's acceleration. This setup optimises both power and efficiency, two normally opposing ideals.
The Qashqai's e-POWER model is also the first in the Qashqai line-up to offer a new single-pedal driving mode called e-Pedal Step. Engaged via a button on the centre console, this allows drivers to control the speed of the vehicle using just the accelerator, meaning less switching between the accelerator and brake. Releasing the accelerator provides 0.2g of deceleration down to a crawl speed of 3mph, with the brake pedal only used to bring the car to a standstill and for heavier brake inputs.
Powering the future
Much has been made about ambitious electrification goals and whether or not the world is adequately prepared and willing to adopt EVs. In the UK, new cars and vans powered solely by a combustion engine will be banned from sale in 2030. Hybrids will be phased out by 2035.
According to recent research from SMMT, almost half of UK motorists don't feel ready to make the switch by 2035.[3] Though there is an increasing number of EV options out there, overcoming that initial hesitancy can be a challenge.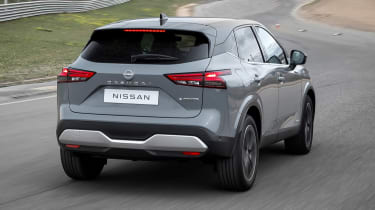 Nissan's e-POWER is well placed to help overcome this as it brings many of the advantages of an EV - instant acceleration, a smooth and quieter driving experience - to those who might not be ready to make the leap to a 100 per cent electric car. Without the larger batteries of a PHEV or all-electric EV, it also weighs less so is nimble on the road and it can be refuelled at a petrol station so charging time or range anxiety won't be of concern.
As a first step towards electric ownership, a Nissan Qashqai equipped with e-POWER makes for a compelling choice. It's also part of Nissan's wider goal to achieve carbon neutrality across the company's operations and the life cycle of its products by 2050. Moreover, by the early 2030s, every all-new Nissan vehicle offering in key markets will be electrified. With these electric commitments on the horizon, now is a good time to be thinking about your first EV.
Discover more about the e-POWER-equipped Nissan Qashqai. Download a free guide to learn about electrified vehicles.
[1] Based on data collected by the Japanese Automobile Dealers Association (JADA) for full calendar year 2018
[2] Compared to Qashqai mild hybrid
[3] Based on 2,185 driving license-holding adults in the UK interviewed between 21-24 August 2020, data weighted to demographically represent the whole country